Receiving and accepting an offer on your home can be exciting. However, it is important not to rush straight in and accept an offer. You need to consider a few things before making a decision which we are going to discuss below.
What is the potential buyers financial position?
Something to consider is the financial position of the potential buyer. Are they a cash buyer? If so this could make the sale of your home faster, as you wont have to wait for the transaction of money. You should also check If the buyer needs a mortgage. Do they have it in place or a mortgage in principal? If they do it means their lender has accepted the mortgage and they can buy your home.
According to The Property Ombudsman Code of Practice under section nine 'offers' shown below in the picture. Estate agents "must undertake Customer Due Diligence and, where appropriate Enhanced Due Diligence, on the buyer". This is to ensure they have proof the buyer can buy your home and is not money laundering. This should take some stress away from you knowing they have to do this. You can be reassured there won't be any problems with the sale of your home and that the buyer is trustworthy.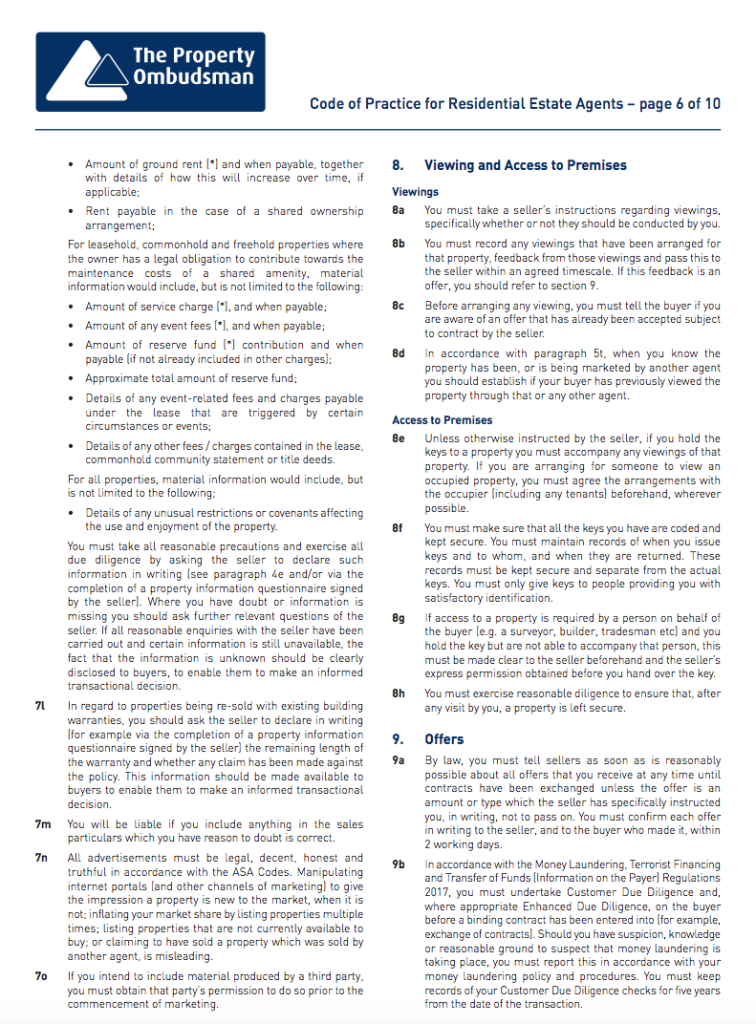 Consider the buyers timescale
You should find out how fast the buyer wants to reach completion. Are they needing to move quickly or can they be quite flexible? It is worth checking as if the buyer is in a rush and you are not then it could be quite stressful getting everything sorted.
Consider your own position
Do you need a quick sale or can you afford to wait for more offers? If you need a quick sale then it might be a good idea to go for cash buyer or one of the first offers you receive. However, if you don't need a quick sale you could wait for more offers to come in and then choose the highest offer
Is the buyer part of a property chain?
If they are part of a property chain there is a risk that the sale could fall through. Which could cause delays and added stress.
Your first offer
You have received your first offer but should you accept it? Don't just accept it straight away take some time to consider the offer. Is the buyer offering you what you want for your home or is there offer too low? If their offer is low you don't have to accept it, at the end of the day it is your choice so if you want to wait for more offers you can.
It is also worth mentioning that a lot of buyers will offer below the asking price usually around 5-10% below to see if they can get your home cheaper. The chances are you won't want to accept the lower offer, so you can negotiate and see if they come with a counter offer that is closer to your asking price. If they really want your home they will then come back with an offer you are happy to accept.
Negotiating
You may want to negotiate with the buyer on a price. Your estate agent is trained to negotiate so they will know the best way to get the right price for you home. If there are other buyers interested in your home as well as the potential buyer you have in mind then you may be able to negotiate a higher price.
If you would like to read more about an agents responsibility to negotiate you can read our blog post here.
Accepting an offer
Once you've considered all the factors, you can make an informed decision about which offer to accept. Your estate agent and conveyancer will now get everything sorted like making sure the contract is ready to make the sale legally binding.