Homemove is aware that moving homes can be both an exciting and stressful event especially when it comes to removal company costs. We are here to simplify the procedure for users, which is why we exist. Homemove addresses some often asked questions regarding the expenses related to moving homes in this guide to house removals costs in an effort to ease your worry.
This overview addresses issues including how much house removals cost, what influences the expenses, and if readers should choose the lowest quote. Additionally, it offers advice on how to reduce moving expenses and even looks at the possibility of moving without using a moving company. We'll look at:
How much does a removal company cost?
What factors will affect the costs?
What is a pre-move survey and do you pay for one?
Moving without a removal company
Should you go for the cheapest quote?
Tips to keep removal costs down
How much do house removals companies cost?
We at Homemove understand that the cost of house relocation is a major concern. But rest assured that we are here to assist you.
Depending on factors like how much items you need to transport and how far you're moving, a removal firm may cost between £400 and £1,500. We've put together a helpful pictorial chart that illustrates the typical price of a removal service based on the size of your home to give you a general idea.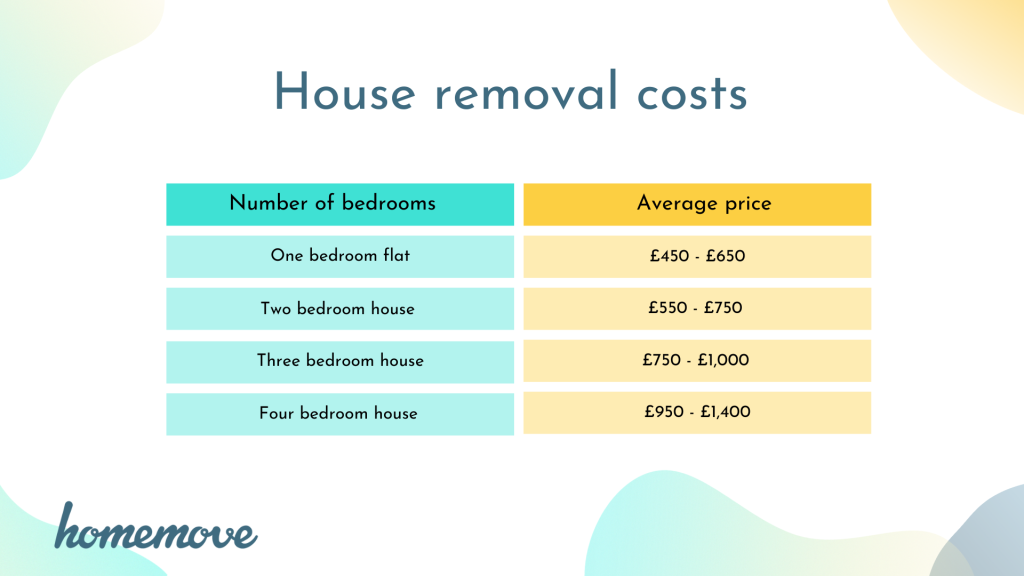 If you're looking for a great deal, look no further! We work with trusted partners who offer fair and transparent prices. And if you're interested in getting a quote, you can do so right here on our website.
Let's take a closer look at the numbers. Say you're moving out of a one bedroom flat and you need a removal service, packing service, and disassembling service. It would cost you £259 for the removal, £99 for packing, and £25 for disassembling. That's a total of £383, which is below the average price.
And if you're moving out of a two bedroom house, it would cost £359 for the removal, £99 for packing, and £25 for disassembling. The total cost would be £483, which is still below the average price. So no hidden surprise costs here, just great deals from our trusted partners.
So lets look closer at how the national average compares to Homemove:
| | | |
| --- | --- | --- |
| Bedrooms | UK Average 2023 | Homemove (0-10 miles) |
| 1 bedroom flat | £450-£650 | From £199 |
| 2 bedroom house | £550-£750 | From £399 |
| 3 bedroom house | £750-£1,000 | From £650 |
| 4 bedroom house | £950-£1,400 | From £850 |
What factors will affect the removal company costs?
When it comes to calculating the cost of a removal service, there are a few factors that can affect the final cost. Here's what you need to know:
Size of your move: The more items, furniture, and boxes you have to move, the higher the cost is likely to be.
Distance of the move: The further you're moving, the more you're likely to pay for the service.
Amount of labour required: If you need more people to help with the move, you may incur additional costs.
Type of service: If you want a full-service move, it's likely to cost more than a basic service.
Additional fees: You may be charged extra for packing materials, fuel costs, additional manpower, or even after-hours services.
Moving date: The day you move can also affect the cost. For example, Fridays are a popular day to move and may be more expensive, while Sundays may be cheaper. Additionally, moving during the busy summer season may also result in higher costs.
Access to your property: If the access to your home is difficult, you may be charged additional fees.
What is a pre-move survey and do you pay for one?
When you're looking to hire a removal company in the UK, brace yourself for a pre-move survey. Essentially, this is where they come to your gaff or drop you a call and take a gander at a few things: how much stuff you're shifting, how big it is, how easy it is to get in and out of your place, the best way to get to your new digs, and what size van and kit they'll need for the move.
The survey is crucial. It helps the removal company give you a dead-on quote and make sure they're fully prepped, so the move goes like a charm. The good news is that most removal companies will throw in the survey for free or include it in the overall fee, so you won't get blindsided with any dodgy extra charges. But, to be on the safe side, give the removal company a shout and confirm everything's on the level.
Moving without a house removals company
Considering moving without a removal company's assistance? Let's take a moment to think about the cost of going it alone before you get out the packing tape.
Moving on your own will normally be less expensive than hiring a removal company. But exactly how much less expensive? It will depend on how much and how far you are transporting the items. This is a big factor in removal company costs. If it's only a short hop, skip, and jump away, doing it yourself could help you save a lot of money. However, if you're travelling across the country, you'll also need to budget for the expense of fuel, lodging, and perhaps some extra strength.
Also, don't overlook the price of packing supplies like boxes, tape, bubble wrap, etc. Going solo may not be saving you as much money as you believe because those expenses can pile up quickly.
Another thing to bear in mind is that you are responsible for anything lost or damaged during the transfer. A moving company will typically provide insurance to cover any losses or damages. They are experts, therefore they know how to ensure that your belongings go from point A to point B securely.
Overall, moving on your own can save you money, but you need consider the charges and keep in mind that you won't have the insurance or experience of a removal firm. If you want to learn more about what removal companies do, check out our handy guide.
Should you go for the cheapest quote?
Going for the cheapest quote may not always be a good decision. The chances are if the quote seems particularly low, then the service you will receive may not be very good or certain costs may be missing. Reasons for the costs being low are:
Some services are not included in the removal company costs – The quote may be low because it is just for your items to be moved and doesn't include any extra services such as, packing and storage.
No insurance – Most removal companies will have insurance so that if something was to break during the move you wouldn't have to pay for it out of your own pocket. However, if the quote is low then they may not have insurance.
A pre-move survey is not included – The pre-move survey is important in order to get an accurate quote. So, look for a company that does a survey.
They got the amount of items you have incorrect – If the quote you receive seems low then the company may have miscalculated how many items you have. The best way to avoid this is by getting quotes from at least three different companies.
It may just be a man with a van service – If the quote is cheap then you may find that you are only getting a man and his van service. This service is not suitable for everyone, especially if you have a lot of items. Therefore, it is important to check what service is offered and explain any requirements to a removal company.
We work with our partners to be both cost competitive and cover all of the above risks to give you absolute peace of mind.
Tips to keep removal costs down
If you're looking to keep the costs of your move down, there are a few steps that you can take:
Be sure to shop around and compare prices from different removal companies. This will ensure that you get the best possible price for your move.
Consider taking certain steps yourself, such as packing and organising your belongings. This can help to save time, effort, and money when it comes to the cost of hiring a removal company.
If possible, try to book your move in advance. This can help to ensure that you get the best possible price for your move, as many removal companies offer discounts for early bookings.
It is a good idea to declutter your home, this will mean that you have less items to move which could bring down the cost.
Another way to keep the costs down is to avoid popular days and seasons. You will probably find that if you move on a less popular day for example, a Sunday and in the winter, then the overall cost will be lower than if you chose a peak season.
Finally, it's important to ask your removal company about any additional fees that may be involved. This will help to ensure that you are not hit with any unexpected costs.
Summary
You now know everything there is to know about removal company costs. Remember that there is much more to it than simply obtaining the lowest price. To be sure you're receiving the greatest deal for you, compare prices and read the fine print. Always double-check that they offer insurance for potential losses and that they provide all the services you require.
Don't worry if you're feeling a little overwhelmed; we've got you covered. Check out our blog post 'Guide to booking your removal company' for even more tips and tricks to ensure your moving day run as smoothly as possible. We promise that a little bit of preparation now will spare you a lot of hassles in the future and if you need a quote – get a removal quote now!