When it comes to choosing the right removal company for your needs, there are several questions you should ask to ensure that you get the best service possible. Here's a list of 12 questions to ask your removal company:
1. Do you offer any additional services?
You will probably find that the removal company will offer additional services. It is a good idea to find out what they do as they may be of use to you. For example, most removal companies will offer a packing service. This is a good idea if you don't have a lot of time yourself to pack but also because they will make sure everything is professionally packed. Therefore, reducing the risk of any breakages or damage.
In addition, another service that may be useful to you is storage services. For example, if you are downsizing or you have items that can't be moved in yet, then this service may be a good idea for you. As, you can have peace of mind knowing that your belongings are safe and secure.
If you are looking for a removal company that offers great services then take a look at our partner LOVESPACE they are a removal services that are affordable and will deal with all kinds of moves. Not only do they deal with transporting your belongings. They also offer great services such as packing which will cost you £99 including free materials, furniture disassembling which will cost you £25 and storage options whether it is one box or if you need a full storage unit.
2. How much are the fees?
You want to make sure you find out how much their fees are and what services are included in the fee you pay. So, you know exactly what you are paying for. You should also check if there will be any additional charges through the process. Another reason why it is a good idea to ask is they may have special offers and you want to make sure you get the best deal possible.
Our partnership with LOVESPACE focuses on transparency. When you use LOVESPACE, they provide clear, upfront pricing and you pay one flat fee, which makes booking super easy and no hidden surprise costs. Some removal companies offer a quote at the beginning however, this quote may not always be the end price so be careful there.
3. Will you be doing a home survey?
Before moving day your removal company may want to do a home survey. This is where they come to your home and assess what items you want moving. The survey is a great opportunity for the removal company to find out:
The amount of stuff that will need moving
What items might be heavy or tricky to move
What equipment is needed for your items
What size van they will need for the job
Again, LOVESPACE have built a very clever pricing algorithm here as they have worked out the average cost for each bedroom. It means that you don't have to faff trying to count all of your items and chattels in preparation for the move – saving you stress and time. We like to make removal super straightforward. Just place a booking online and your journey to your new home starts today.
4. When do I pay?
This is an important question because you need to know if you need to have the money upfront or if you can pay once the move has happened. You will probably find that the removal company will want the payment in advance so be prepared with the money. In addition, it is also a good idea to ask how you pay the fees, so you know how they want the fees received.
5. How long have you been in business?
Moving home is a stressful time so you want to make sure you have trusted professionals doing the move for you. You can ask them what experience they have for example, do they have any special certifications or qualifications? As it's important to choose a company that has a good reputation and is experienced in moving households.
6. Do you have past customer feedback?
A reputable removal company should be able to provide you with feedback from their past customers. This will help to give you an idea on the sort of service they offer.
7. What insurance do you have?
You want to check that the removal company is insured in case anything is broken or damaged during the move. You should also find out what items are covered under their insurance. As, valuable belongings may not be included on their insurance. So, you may want to get your own insurance on them items if you haven't already.
8. How long will the move take?
It is a good idea to ask this question so you have a rough estimate on how long the move will take. If you have a timeframe you can plan accordingly and be prepared for any delays or unexpected issues. The removal company may not be able to give you an exact time as delays can happen. However, if they are an experienced removal company the estimation they give should be fairly accurate.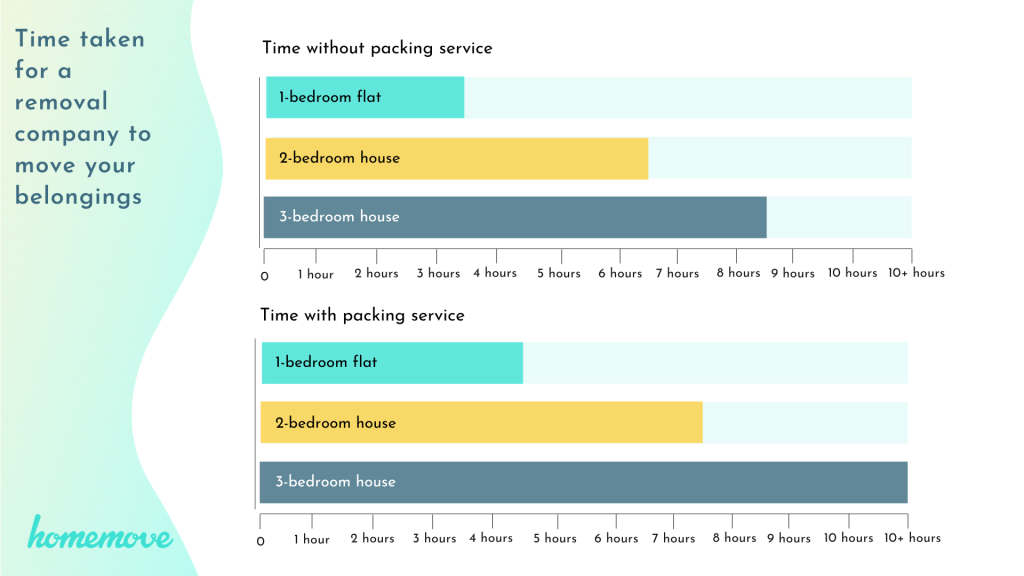 9. Do you provide packing materials?
If you are having the removal company do the packing for you then you may want to ask what type of packing materials the removal company offers, such as cardboard boxes, tape, and bubble wrap. So, you can be sure they have enough materials and the right materials to transport your belongings safely.
10. What size vehicles do you have?
This is a good question to ask because you need to know if they have the right van suitable for your move. For example, if you are moving to an area with very small narrow roads, a smaller van may be more suitable. You will likely find that most removal companies will have a range of vans to use and if they do the home survey before the move they will know which van is most suitable.
11. Will there be any charges for waiting time?
You should ask your removal company this question before hiring them as you need to find out if you will have to pay any charges for any delays. For example, if you are part of a chain then there can often be delays, so it is best to find out if you will have to pay any charges for this.
12. Is there anything you can't move?
There may be some items that the removal company won't move for you, so it is best to find out as you will need to make alternative arrangements to get them to your new home. You will find that most removal companies won't move paint, flammables, hazardous materials, animals and perishable foods.
Summary
By asking these questions, you can ensure that you get the best removal service possible and, your possessions will be in good hands. Make sure to do your research and choose a removal company that is experienced, reliable and has all the services that you require to make the moving process as smooth as possible.