Looking for the best estate agent? Did you know that 75% of consumers never use the same estate agent twice? Estate agents get a bad rep but they are not all bad. Finding a good estate agent is worth it's weight in gold.
Navigating the complexities of buying or selling a property can be an intimidating experience. Selecting the ideal estate agent is crucial for a smooth process and satisfying results. With numerous agents vying for your business, finding the perfect match may seem daunting. In this blog, we'll explore how to research, narrow down options, and ultimately choose the best estate agent in your area.
What defines a good estate agent?
An effective estate agent maintains a list of potential buyers for your property and actively markets to them. They should be proactive, regularly updating you on your property sale's progress. A reputable agent has a strong success record and demonstrates local market expertise. They offer knowledgeable advice on pricing and marketing strategies to attain the highest sale price. Ultimately, an excellent estate agent is a trustworthy partner throughout the entire sales process.
Do your research
Choosing the right estate agent is crucial to ensuring a smooth and successful property transaction. To make the best decision, thorough research is essential. This enables you to select an agent who is not only dependable and trustworthy, but also well-suited to address your specific needs.
Reviews:
Online reviews can be a valuable resource, offering insights into an agent's reputation, quality of service, and client satisfaction. By examining these reviews, you can identify patterns and trends in their performance. Additionally, you can explore the agent's website to gather more information about their services, experience, and team. A well-designed and informative website can indicate a professional and dedicated agency.
Awards:
Awards and industry recognition can further confirm an agent's expertise and professionalism. Look for awards that highlight exceptional service, customer satisfaction, or industry innovation. Membership in the Property Ombudsman Scheme is another important factor to consider, as it demonstrates that the agent is committed to upholding stringent standards of practice and providing fair, transparent services to their clients.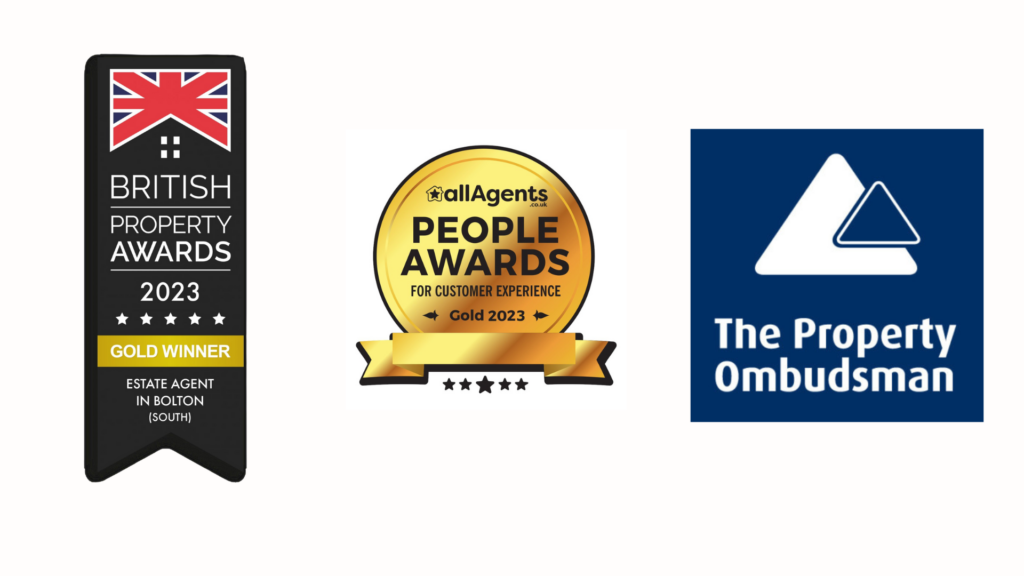 Track record
When choosing the best estate agent, it's crucial to consider their track record in terms of average sale time, the number of properties they have listed in your area, and the percentage of the asking price they typically achieve. Examining these factors can provide valuable insights into the agent's efficiency and effectiveness in the local market.
A shorter average sale time indicates that the agent is skilled at swiftly connecting sellers with potential buyers. On the other hand, a higher number of properties listed suggests they are a popular and trusted choice in your area.
Moreover, an agent who consistently achieves a high percentage of the asking price demonstrates their ability to accurately value properties. As well as, negotiate the best possible deal on behalf of their clients.
By taking these factors into account, you can make an informed decision about the estate agent best equipped to handle your property sale, ensuring a smoother process and a more satisfactory outcome.
To gather this information about an estate agent, you can visit the agent's website and search for the relevant statistics. In some cases, agents may display this information as part of their marketing efforts to showcase their expertise.
You can also go on property portals such as Rightmove and Zoopla which offer insights into an agent's activity in your area. By searching for properties similar to yours, you can get an idea of how many listings an agent has and compare the asking prices with the sold prices to calculate their success rate. Take a look at the two videos below to find out how to find agents in your area on Rightmove and Zoopla.
Or you could just contact the estate agent directly and ask for the relevant information. A reputable agent should be transparent about their performance statistics and willing to provide the requested data.
Ask around
Another great way to discover a top-notch estate agent is by tapping into your personal network for recommendations. If you have friends, family members, or colleagues who've recently bought or sold a property, they could offer valuable insights based on their experiences with local estate agents. Inquire about their agent's communication style, negotiation skills, and overall quality of service. Did they feel heard, well-informed, and supported throughout the journey? Was the agent proactive and consistently professional? Asking these types of questions can guide you towards potential agents that might be just right for you.
Remember, personal recommendations carry weight, as they typically come from people you trust and who have firsthand experience with the agent. By putting your feelers out, you might just uncover an estate agent with a solid reputation for success, ready to guide you through a stress-free and triumphant property transaction.
Consider their fees
When selecting an estate agent, it's essential to weigh up the fees involved before making a decision. In 2023, the average estate agent fees range between 1% and 3% of the property's selling price, plus VAT. While it might be tempting to go for the agent with the lowest fees, remember that you often get what you pay for. Choosing an agent solely based on lower fees might lead to a less-than-stellar service or inadequate marketing efforts, potentially affecting the final sale price of your property.
Instead, focus on finding an agent who offers a good balance between reasonable fees and excellent service. This way, you'll have a higher chance of achieving a successful sale. Remember, it's crucial to consider the overall value and expertise the estate agent can bring to the table, rather than just focusing on the fees.
Get three agents to value your property
In the process of choosing the best estate agent, it is highly recommended to invite at least three agents to conduct a valuation on your property. This approach enables you to compare their valuations, methodologies, and the level of service each agent offers. By obtaining multiple valuations, you gain a more accurate understanding of your property's market value. As well as help you make a well-informed decision on the most suitable agent for your needs. A proficient agent will not only provide a valuation but also offer insights into the local property market, suggest effective marketing strategies, and demonstrate their knowledge of current buyer trends.
Furthermore, during the valuation, an exemplary agent will take the time to assess your property thoroughly. They will consider factors such as location, size, condition, and any unique selling points. This comprehensive evaluation ensures that you receive a realistic and competitive estimate, giving you confidence in the agent's ability to effectively represent your property and achieve the best possible outcome. If you would like to know more about valuations you can read our blog post here.
Use Homemove
At homemove we understand the importance of finding the perfect estate agent to handle your house sale. Our platform is designed to simplify the process of finding the perfect estate agent for your property needs. By carefully handpicking the best and most trusted agents in your area, we take the hassle out of searching for the right professional to handle your property transaction. Our user-friendly platform consolidates essential information about each agent, such as reviews, star ratings, and performance data. This makes it easier for you to compare and evaluate your options. You can find all this information by looking on your dashboard. Homemove provides you with local trusted agents and all you have to do it select the dates you are available for valuations it really is that simple. Take a look at the video below to see this process.
Get to know the agents
When inviting estate agents to conduct a valuation on your property, it's essential to ask the right questions to help you make an informed decision on which agent to pick. You will be working closely with the agent throughout so it is a good time to work out which agent you feel comfortable with. Some questions to ask are:
How many years of experience do you have in the local property market?
Can you provide references from recent clients or examples of similar properties you have successfully sold in the area?
How will you market my property, and which advertising platforms will you use?
Can you explain your valuation method and provide a rationale for the suggested asking price?
What is your fee structure, and are there any additional costs involved in the process?
How do you plan to conduct property viewings, and will you accompany potential buyers?
How often can I expect updates and communication from you throughout the sale process?
Are you a member of any professional organisations or regulatory bodies, such as the Property Ombudsman Scheme or the National Association of Estate Agents (NAEA)?
What is your average sale time, and how does it compare to the local market average?
What percentage of the asking price do you typically achieve for your clients?
Online and hybrid estate agents
Online and hybrid estate agents are alternatives to traditional high-street estate agents. They offer varying levels of service and operate primarily through the internet. Here's an overview of what they are and the pros and cons of using them when selling your home:
Online estate agents:
Online estate agents are internet-based agents that offer a range of property services at usually a lower cost. They usually charge a fixed fee upfront or a deferred payment option.
Pros:
Lower fees: Online estate agents often charge lower fees compared to traditional high-street agents, potentially saving you money on commission.
Convenience: As their services are primarily online, you can access information and manage your property sale at any time, from anywhere.
Wider reach: Online estate agents typically advertise on major property portals, giving your property exposure to a large audience of potential buyers.
Cons:
Limited personal service: Online estate agents may not provide the same level of personalised service as a high-street agent, which could impact the overall experience.
Upfront or deferred fees: You may be required to pay fees upfront or at a later date, regardless of whether your property sells or not.
Hands-on approach: You might need to handle certain aspects of the sale yourself, such as conducting property viewings or negotiating with potential buyers.
Hybrid estate agents:
Hybrid estate agents combine the online services of internet-based agents with the local knowledge and personal touch of traditional high-street agents. They usually charge a fixed fee for their services.
Pros:
Cost-effective: Hybrid agents typically charge lower fees than high-street agents, while offering a more comprehensive service than online-only agents.
Local expertise: Many hybrid agents have local property experts who can provide personalised service and knowledge of the local market.
Flexibility: Hybrid agents offer the convenience of online services and the personal touch of traditional agents, allowing you to choose the level of service that suits your needs.
Cons:
Potentially higher fees: hybrid agents may charge higher fees than online-only agents.
Inconsistent service: The quality of service can vary between different hybrid agents, as some may lean more towards the online or traditional approach.
Less established: Hybrid agents are relatively new in the market, and some buyers and sellers may prefer working with more established high-street agents.
Though online and hybrid estate agents have advantages, traditional high-street agents remain popular. They offer extensive local knowledge and personalised face-to-face service, providing unmatched expertise for property sellers.
High-street agents excel at navigating property transaction complexities. They offer hands-on support and tailored advice throughout the process. Their strong buyer networks and local market understanding help secure optimal sale prices.
Summary
In this blog, we've explored the key factors to consider when choosing the best estate agent for your property needs. We've discussed the importance of conducting thorough research, examining online reviews, and seeking personal recommendations to find a reliable and trustworthy agent.
We've also highlighted the significance of assessing an agent's track record, local expertise, and membership in professional organisations. As well as comparing different types of agents, such as traditional high-street, online, and hybrid.
Furthermore, we've explored homemove's benefits, simplifying comparisons and evaluations of top-rated local agents. Following this blog's guidance, you'll make informed decisions and choose the perfect agent for a smooth, successful property transaction.